PATIENTS' PERCEPTION OF PELVIC FLOOR DYSFUNCTIONS
Elena Nicoli 1,3, Laura Colonna 2, Giovanna Spinetti 1, Nunzia Mastrocola 3,  Pier Paolo Mariani 4, Paola Algeri5,  Orlando Caruso 1
1: ASST Bergamo Est – Ginecologia ed Ostetricia; AO Bolognini, Seriate (BG) via Paderno 33
2: ASST Bergamo Est – Ginecologia ed Ostetricia; AO Pesenti Fenaroli,  Alzano Lombardo  (BG) via Mazzini 88
3: ASST Bergamo Est – Ginecologia ed Ostetricia; AO Locatelli, Piario (BG) Via Groppino 22
4: ASST Bergamo Est- Chirurgia generale; AO Bolognini Seriate (BG) via Paderno 33
5: UNIMIB – scuola di specializzazione in ginecologia ed ostetricia; Monza (MB) via Pergolesi 33
Topic:patients' awareness of pelvic floor diseases
Abstract:
Aim.
Pelvic floor dysfunction (PFD) is an increasing problem, lifetime related, causing both an huge social cost and a trouble in patients' quality of life.  It is well known that patients' knowledge of disease is an important factor in determining success of therapies, especially in chronic diseases. Nowadays data regarding the concerns of women with their dysfunctions are poor. [1,2]
Improving the patient's understanding of diagnosis and therapeutic options is a cornersone of PFD management. [3]
We questioned that not every patient is aware of her disorder before our urogynacological evaluation. The aim of our study is to verify our patients' awareness about possible therapies, time expected to solution, and the concordance with their wishes.
Matherials and methods.
From 1st January to 31st December 2016 we administered to all naive patients evaluated in our PFD out-patient unit 5 questions about their presumed disease and possible treatment.
We asked them: 1- who prescribed the visit (general practitioner, gynaecologist, myself, others –to be specified), 2- what is your problem? (open field), 3- which is the therapy you think will be offered to you? (surgery, drugs, FKT, nothing to do, other experimental –to be specified) 4- which therapy would you prefer? (surgery, drugs, FKT, no therapy, other experimental) 5- how long time does it take to you to solve the problem? (few days, one month, 6 months, I don't think there will be a solution).
We reviewed data of questionnaires and matched them with urogynaecologyst's diagnosis and treatment.
Results.
We evaluated 355 patients at their first access; 281 of them (88%) received our "Five Questions". We recollected data about 275/281 of them (97%). General characteristics are listed in Table 1, whereas age distribution is in Figure 1.
In our population, 216 of patients (78%, group A) agreed with urogynaecologyst's diagnosis, whereas 59 patients (22%, group B) was wrong about their PFD; 15 (5%) patients described more than one diagnosis.   In Group B patients, 36 (61%) described wrong therapy. Group B characteristics are listed in Table 2 and 3.
Considering treatment  only 142 patients (51%) correctly supposed their treatment, whereas 133 (49%, group C) wrongly indicated a different solution. In this group 37 patients (28%) were wrong both in diagnosis and in treatment. Most of our patients of Group C attended and wished a more invasive therapy than consultant's decision. Comparison between presumed and offered therapy is resumed in Table 4.
Regarding the time needed to solution, most of women presumed a middle-term time necessary (6 to 12 months), but  17,5% advocated solution in few days.
Conclusions.
PFD and urinary incontinence are an increasing complains in women, especially in older ones, still remaining a misunderstood problem until a urogynecological consultation is performed. In our population biggest confusion regards concept of urinary incontinence: most of these patients had wrong micturition habits, which only needed to be corrected.  Age seems to be related to misdiagnosis (52% of our population is older than 60).  Not only patients, but also doctors (in particular gynecologysts) should correct misconception.
A well-informed patient is what doctors need to cope at their best.
Half of our patients (49%) wrongly identified the therapy they received later, and it is interesting that 3% of patients believe there is no solution for PFD.
In our study some patients presumed to receive more invasive therapies compared to what whas them offered. 51% of patients who considered surgery their therapy were wrong:  for example 21% (10/47) had abnormal voiding pattern that were treated modifying lifestyle and toilet habits. In this group behavioural intervention has been proposed in 29% of patients (39/133).
Regarding the time needed to solution  surprisingly 17,5% advocated solution in few days, apparently not taking in count the nature of PFD as a chronic disease.
These preliminary results suggest us that an hard work needs to be performed, both with patients and with M.D. (in particular with gynaecologists and general practitioners) to improve knowledge about pelvic floor and related dysfunctions. We have programmed and offered specific training and educational programmes to collegues in our district proper information about physiology of genito-urinary tract.
References.
[1] Krista Kiyosaki, A. Lenore Ackerman, Stephanie Histed, Claudia Sevilla, Karyn Eilber, Sally Maliski, RN, PhD, and Jennifer Anger, MD, MPH. Patient Understanding of Pelvic Floor Disorders: What Women Want to Know. Female Pelvic Med Reconstr Surg. 2012 ; 18(3): 137–142.
[2] K. S. Kinchen, K. Burgio, A. C. Diokno, N. H. Fultz, R. Bump, R. Obenchain, "Factors associated with women's decisions to seek treatment for urinary incontinence," JWH, vol. 12, no. 7, pp. 687–697, 2003
[3] Jackson E, Hernandez L, Mallett VT, Montoya TI. Knowledge, Perceptions, and Attitudes Toward Pelvic Organ Prolapse and Urinary Incontinence in Spanish-Speaking Latinas. Female Pelvic Med Reconstr Surg. 2017 Jan 24
Figure 1 – Age distribution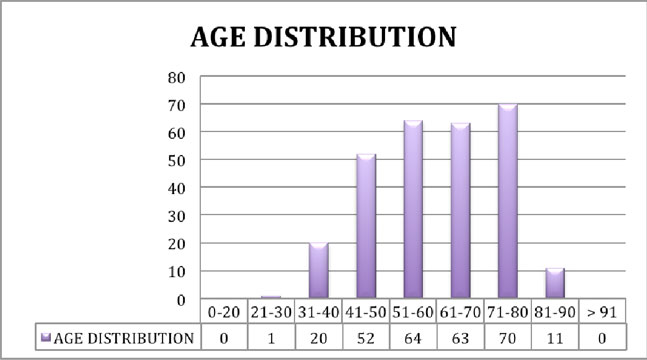 Table 1 -General characteristics

AGE

Mean 60,55 (range 25-81)

ETHNICITY

Italian: 254 (92%)
Non Italian: 21 (8%)

REFERRAL

General Practitioner: 50 (18%)
Gynaecologyst: 189 (69%)
Herself: 9 (3%)
Other specialists: 27 (10%)

PRESUMED DIAGNOSIS

Urinary incontinence = 198 (68%)
Pelvic organ prolapse = 46 (16%)
Preoperative work-up = 6 (2%)
Voiding dysfunction  = 14 (5%)
Urinary tract infections = 7 (2%)
Medical indication = 9 (3%)
Unknown reason = 8 (3 %)
Multi-disciplinary team = 2 (1%)

TIME TO CURE

Few days = 48 (17,5%)
One Month = 96 (29 %)
6-12 months = 105 (38%)
No solution = 14 (5%)
No answer = 12 (4,5%)

THERAPY PRESUMED

Surgery = 90 (33%)
Drugs = 81 (31%)
PFMT = 65 (23%)
No therapy = 8 (3%)
No answer = 19 (7%)
Experimental = 12 (4%)
Table 2 - Age distribution and wrong diagnosis                    
| | | | |
| --- | --- | --- | --- |
| Age groups | Patients | % of wrong diagnosis | % of cathegory |
| 0-20 | 0 | 0 | 0 |
| 21-30 | 1 | 1,70% | 100% |
| 31-40 | 3 | 5% | 15% |
| 41-50 | 7 | 12% | 13% |
| 51-60 | 16 | 27% | 25% |
| 61-70 | 10 | 17% | 16% |
| 71-80 | 18 | 30,50% | 26% |
| 81-90 | 4 | 6,80% | 36% |
| > 91 | 0 | 0% | 0% |
Table 3- Wrong and correct diagnosis

PRESUMED

N

CORRECT

N

Urinary
Incontinence

26

Voiding dysfunction

6

UTI

4

Wrong habits

16

Prolapse

1

Overactive Bladder

1

MD indication

9

Prolapse

2

Overactive Bladder

2

Wrong habits

2

Stress incontinence

2

Chronic pelvic pain

1

Miscellaneous (UTI, unknown)

9

OAB

2

Prolapse

2

Mixed incontinence

1

Wrong habits

4

Voiding dysfunction

4

Prolapse

1

Overactive bladder

1

Wrong habits

2

Multidisciplinary

2

Chronic pelvic pain

1

Normal

1
Table 4 - presumed, wished and prescribed therapy (gr C)

Presumed therapy

N

wished

offered

Surgery

47

Surgery 34
Drugs 6
PFMT 6
Other 1

Drugs 30
PFMT 7
Habits 10

Drugs

 32

Drugs 27
PFMT 3
Experimental 2

Surgery 5
PFMT  10
Experimental (Botox) 1
Habits  16

PFMT

38

PFMT 33
Surgery 2
Drugs 2
No therapy 1

Surgery 3
Drugs 23
Habits 12

no therapy

 8

Surgery 2
Drugs 2
PFMT 3
No therapy 1

Surgery 2
Drugs 6

Experimental
(NAS)

8

Surgery 2
Drugs 4
No therapy 1
Unknown 1

Surgery 2
Drugs 2
PFMT 1
Habits 1